GLIDE through life...
At GLIDE, we believe that fitness should be a life-style, not something that you dread taking an hour out of your day to accomplish. We give you the tools you need to take what you learn in the studio and apply them to whatever adventures take you beyond. GLIDE's classes are designed to challenge your core and create a lean, toned body. Locally owned and operated, we design classes and private instruction based on your South Florida life-style, whether it's golf, tennis, surfing, paddle boarding, or running.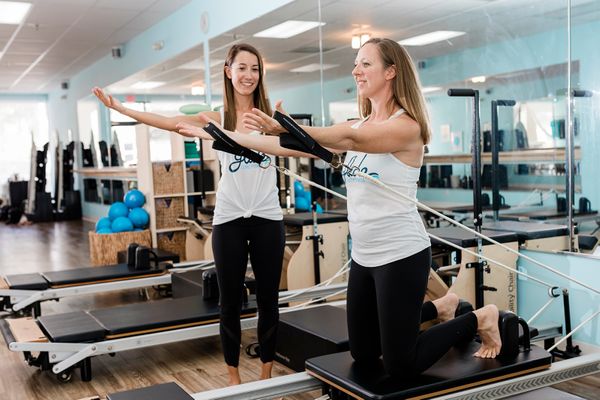 Pilates Equipment Classes and Private Instruction
Pilates incorporates both stretching and strength training and is designed to restore the natural curves of the spine and rebalance the muscles surrounding the joints. As well, preparatory exercises and modifications allow the technique to be appropriate for many different body types and abilities, making it applicable to sport-specific training and everyday life. All Pilates classes are 55 minutes in length.
Pilates Reformer Equipment Class​ - Utilizing the spring resistance of the Pilates Reformer, clients are lead through a series of exercises focusing on joint stabilization, strength building, balance and flexibility.
Pilates Chair/Reformer Combo - A step up in intensity, the Chair/Reformer Combo class utilizes heavier spring resistance on the Pilates Chair and Reformer to create an amped up workout for those looking for greater strength training and athletic conditioning.
Athletic Conditioning Cardio Tramp - This class focuses on functional fitness for enhanced athletic performance. Recommended for those looking to increase endurance, strength, power, and agility. This class is quick-moving, high-intensity, and results-driven.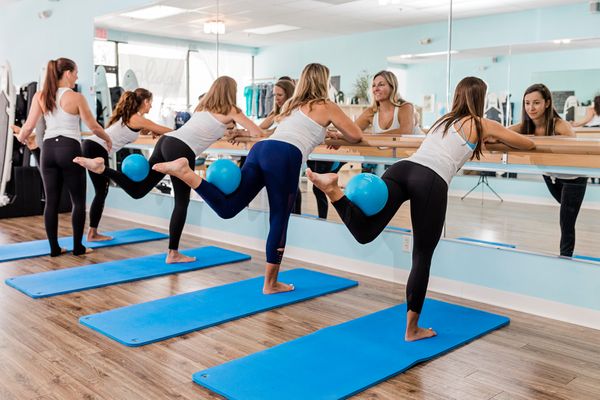 Glide Barre
A completely reimagined barre class that challenges your core while toning your arms, legs, glutes and abs. Incorporates light weights, resistance bands, and isometrics to sculpt the body head to toe. Elements of Pilates and ballet are combined together to create a challenging class that will give you that long and lean "dancer's body".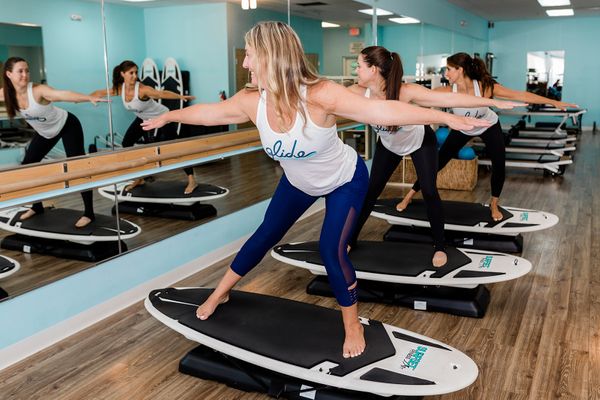 Surfset
The SURFSET® Method is inspired by the dynamic movements of surfing & designed to sculpt a lean surfer physique. The programming incorporates the physical movements of the sport as well as the adventurous spirit of surfing for a comprehensive exercise routine that combines fat burn, lean muscle build & extreme balance training into one. Burn up to 900 calories in these extreme 50 minute core challenging classes.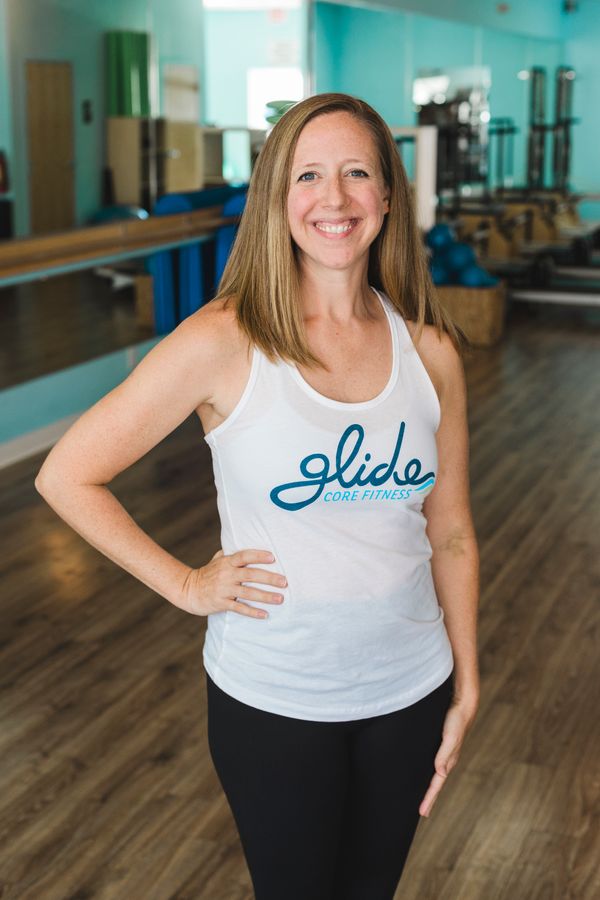 Our Instructors
Kristen Brasher - Owner and Pilates/Barre Instructor
Kristen's love for Pilates started in college while attending the University of Iowa for her BFA in Dance. Professionally, she has been a company member of the Mid America Dance Company in St. Louis and the Brazarte Dance Company in Miami touring and performing all over the US. Kristen has taught dance, barre, and pilates for over 25 years and received her full Matwork, Reformer, and CCB certification from STOTT Pilates. She has also completed the Advanced Mat and Advanced Reformer programs as well. She opened Glide in 2015 to combine her love of Pilates, barre, and core fitness classes into one studio. We are so happy with the positive and welcoming atmosphere that we have been able to create at Glide. All of our instructors are incredibly knowledgeable and create innovative, effective, and fun programming for our clients.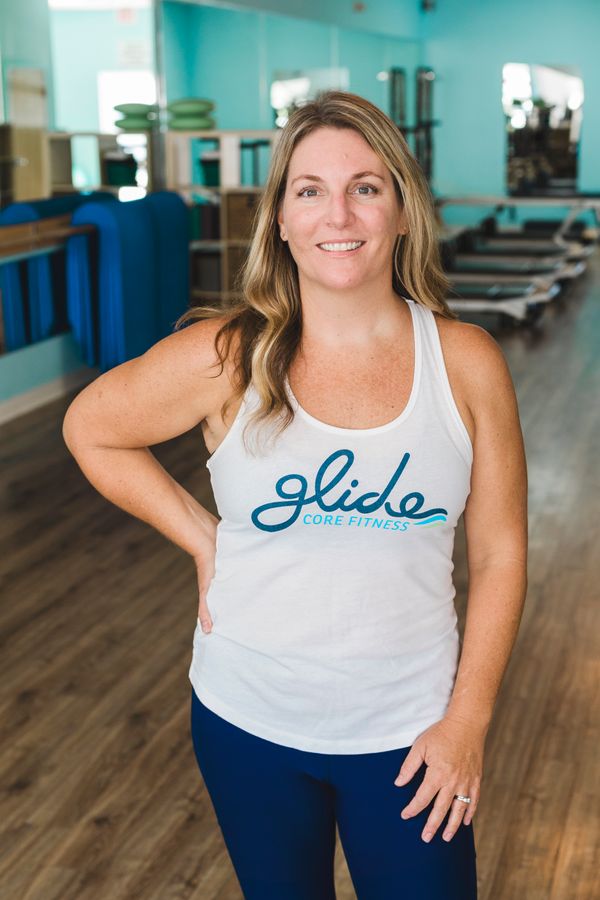 Katie Gonzalez has been teaching Pilates and Surfset with Glide since we opened in 2015. A native of Tequesta, Katie's love of Pilates began as a student with Kristen during her practice teaching hours. She has received her Matwork certification through Power Pilates and her Level 1 Reformer certification through STOTT Pilates. Katie has also completed the Advanced Level Reformer course and numerous workshops through the STOTT Pilates program in athletic conditioning and core fitness.
Katie is available for private lessons and private small group sessions in Pilates and Surfset. Her love of teaching is contagious and she always strives to create well-balanced and challenging classes in her programming.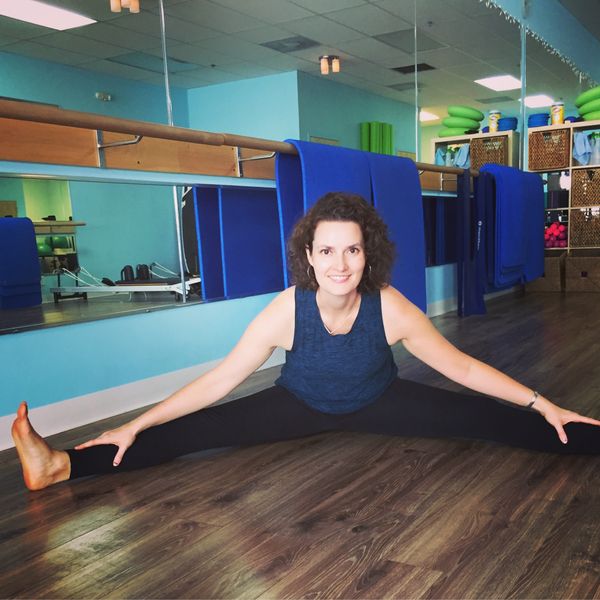 Jessica Namit has over 15 years of experience as an educator, writer, and yoga practitioner. Her classes are a safe and welcoming space for all body types, needs, and levels of experience, where she offers options for beginners as well as advanced students. Jessica is knowledgeable and encourages attention to alignment while integrating elements of mindfulness into her teachings. Her interest in movement and fitness informs her yoga and Pilates practices.
Jessica has studied with a range of accomplished teachers with Jason Crandall as her primary teacher. Most of her yoga experience as both student and teacher has roots in the NYC metro area, where she lived for over 10 years. Jessica has completed the comprehensive STOTT Pilates Matwork, Reformer, and CCB training and will be bringing her expertise to our workshop series starting in the Fall.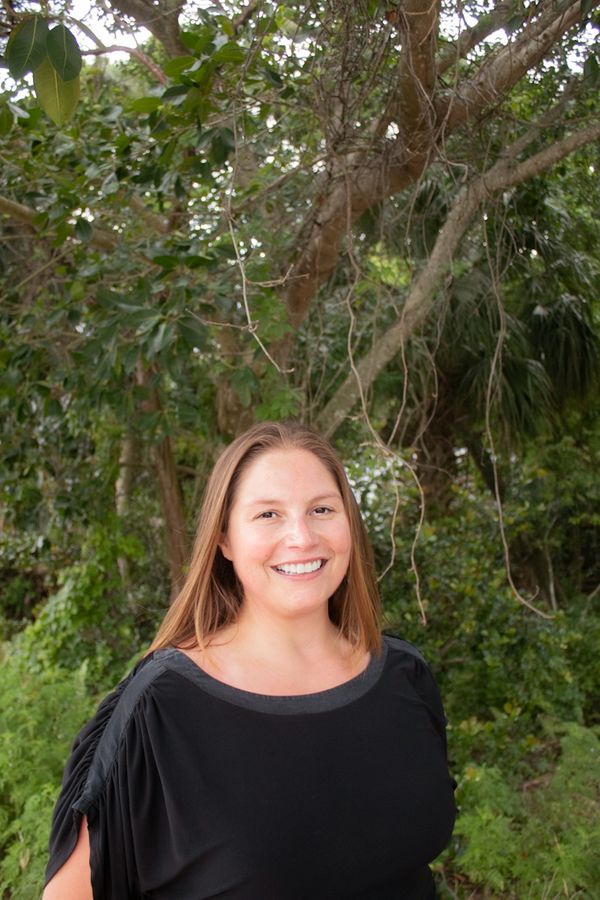 Liz Bernstein has been teaching yoga and mindfulness meditation since 2010. She began teaching mat Pilates in 2014, and discovered reformer Pilates when she was searching for safe and effective rehabilitation options after surviving her second brain surgery in July 2015. Liz's unique approach blends current exercise and biomechanics science with traditional Pilates exercises to help people feel better in their bodies. Liz is a comprehensively certified Balanced Body instructor, including all Mat, Reformer, Chair, Barrel, Trapeze and Tower certifications. Liz has also completed many specialized trainings such as "Pilates for Neurological Conditions" by her mentor Mariska Berland, co-owner of The Neuro Studio. Liz is also a 500hr - ERYT, YACEP and leads yoga anatomy trainings all over the world. Liz is available for private lessons and also for booking neuro-specific private lessons with conditions such as Parkinsons, MS, neuropathy, hEDS, and HSD.